Dry Bulk
우리는 고객 우선 정책에 따라 고품질의 물류 서비스를 제공함으로써 세계 사회의 중요한 인프라가 되고 고객과 최고의 파트너가 되는 것이 목표입니다.
석탄, 철광석 등 원료수송 부문
오랜 기간 축적된 해상운송 노하우와 함께 철저한 선박관리를 통하여 안전하고 신뢰할 수 있는 해상운송 서비스를 제공하고 있습니다. 아울러, 친환경 선박의 개발에도 적극 참여하고 투자하여 2020년 시행되는 글로벌 황산화물(SOx) 배출규제에도 선제적으로 대응하는 등 친환경 기업으로서의 위치를 공고히 하고 있습니다.
Reliable service
Close communication between Chartering and Operation team
Continuous dialogue between Crew/Shore and Operation team
→ Swift and Smooth Operation
Reliable ships
Active monitoring of vessel quality by Internal vessel vetting system(SIA)
Young Fleet
- Capesize Tonnage : Average about 5 years old
- Operating Tonnage : Average about 6 years old


Accumulated knowledge and skills
Back up by Kline In-house management companies and specialized organization for safety management
→ Safe and High Quality
STEEL PRODUCTS 및 기타 벌크화물 부문
Steel Plate, Coil, Pipe, H-beam 등 각종 Steel products 의 운송뿐만 아니라, 곡물, 펄프 등 여러가지 드라이벌크 화물의 해상운송에 있어 국내외 화주들에게 최상의 서비스를 제공하고 있습니다.
Our Main Trades
1. Inter-Asia Route (Malaysia, Thai, Indonesia, Vietnam etc…) => with 10K-28K Dwt Single/Tween Deckers operated by "K" Line Kinkai
2. WC Mexico Route (Mazatlan, Mazanillo, L.Cardenas etc…) => with 28K-60K Dwt Single Decker operated by "K" Line
3. US Gulf Route (Houston, New Orleans etc…) => with 28K-60K Dwt Single Decker operated by "K" Line
4. India-PG Route (India, Pakistan, UAE, Saudi Arabia etc…) => with 28K-60K Dwt Single Decker operated by "K" Line
Destination
Port Kelang (Malaysia)
Kuantan (Malaysia)
Singapore (Singapore)
Laem Chabang (Thai)
Jakarta (Indonesia)
Surabaya (Indonesia)
HCMC (Vietnam)
Manila (Philippines)
Cebu (Philippines)
etc…
02. WC Mexico Route (Monthly)
Regular Call


Ensenada (Mexico)
Mazatlan (Mexico)
Manzanillo (Mexico)
Lazaro Cardenas (Mexico)

Additional Call


Guatemala
Nicaragua
El Salvador
Costa Rica
etc…
03. US Gulf Route (Bi-Monthly)
Regular Call


Houston (USA)
New Orleans (USA)
Brownsville (USA)


Additional Call


West & East Mexico
West & North Colombia
Guatemala
Nicaragua
El Salvador
Costa Rica
etc…
04. India-PG Route (Quarterly)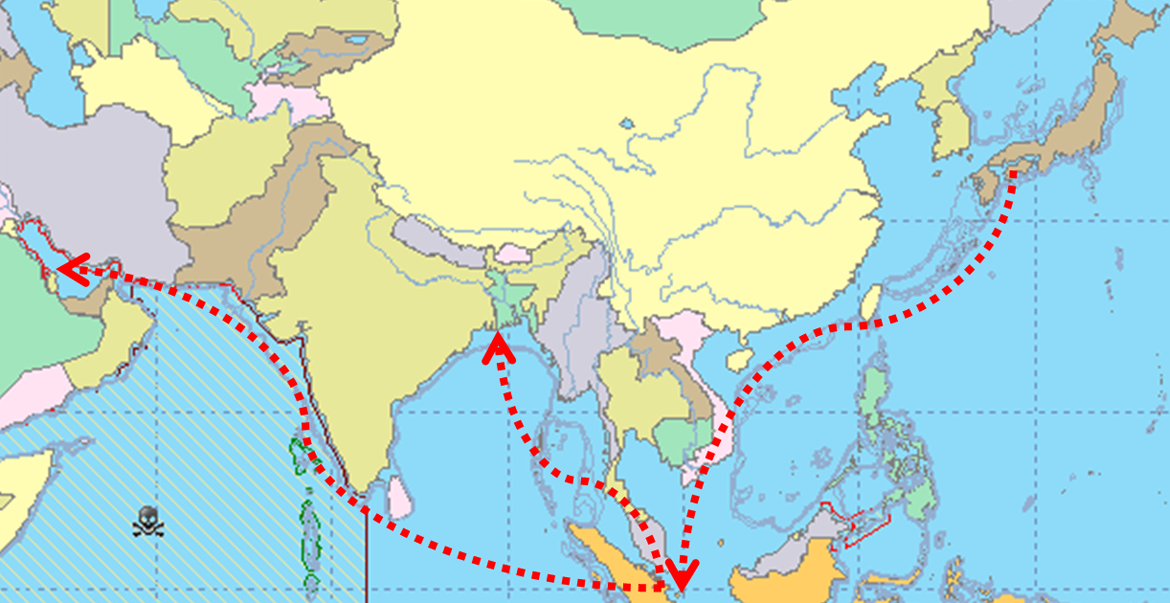 Regular Call


Dammam (Saudi Arabia)
Karachi (Pakistan)
Mumbai (India)
Chittagong (Bangladesh)

Additional Call


Vietnam
Singapore
Malaysia
etc…
Contact PIC
| | | |
| --- | --- | --- |
| 이성수 팀장 | TEL : 02-397-8252 | E-Mail : lee.sungsu@kr.kline.com |
| 김유종 차장 | TEL : 02-397-8257 | E-Mail : kim.youjong@kr.kline.com |
| 박세웅 과장 | TEL : 02-397-8254 | E-Mail : park.sewoong@kr.kline.com |
| 김도엽 사원 | TEL : 02-397-8255 | E-Mail : kim.doyeop@kr.kline.com |